We have 95 hectares of vineyards spread over different properties located between the south of Perpignan and Collioure, in the Roussillon region.
Our vineyards are spread over six appellations: AOP Côtes du Roussillon, AOP Côtes du Roussillon Villages Les Aspres, AOP Collioure, AOP Muscat de Rivesaltes (Vins Doux Naturels), AOP Rivesaltes (Vins Doux Naturels) and IGP Côtes Catalanes.
transmission & excellence
The transmission and conservation of a healthy vineyard are at the heart of our concerns. Our cultivation philosophy is oriented towards a true respect for the environment, in which biodiversity and the regulation of ecosystems must be protected.
Various actions are implemented in our vineyards to encourage continuous biological activity. This accompaniment of the vine is essential to enable it to adapt to the climatic changes that affect it.
We are convinced that understanding how soils function through biodiversity is essential for restoring living soils and promoting regenerative agriculture.
At the same time, we are progressively applying alternative cultivation methods in order to allow biological activity to be autonomous and to encourage auxiliary fauna in our vineyards.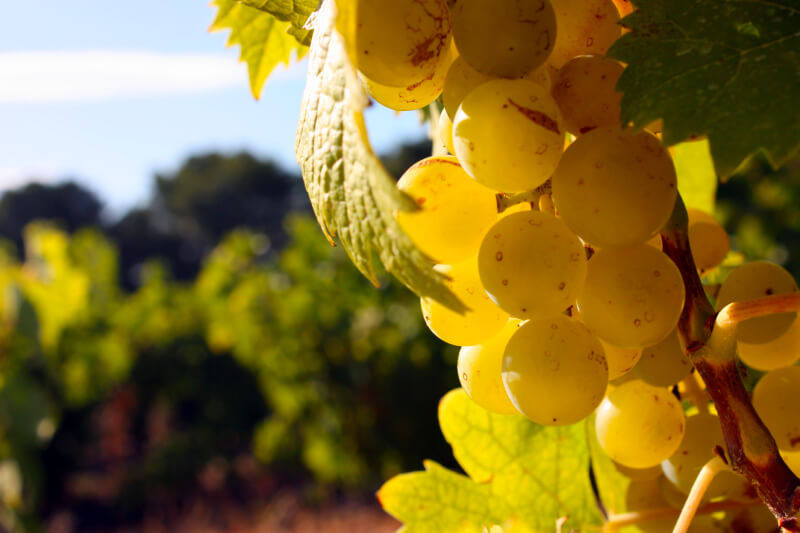 All of our plots of land are cultivated using sustainable agriculture with the HVE 3 (High Environmental Value) label.
These different plots are rigorously selected with the aim of being one of the most representative vineyards of the South of Roussillon.
This 13th century property built by the Knights Templar is the family home of the Jonquères d'Oriola. Its brick and round pebble construction is typical of the Roussillon region. All the wines we produce are made in the cellars of the château.
These vines are planted on a terroir of quaternary terraces shaped by the Pyrenees massif, situated on the edge of the Mediterranean Sea.
AOP Côtes du Roussillon
Villages les Aspres
Located south-west of Perpignan, on the foothills of Mont Canigou (2784m), the vines of the Côtes du Roussillon Village les Aspres appellation benefit from a unique terroir made up of sandy clays, rolled pebbles and limestone. Our property is located at an altitude of 150 metres and 8km from the Mediterranean Sea, thus favouring the finesse and richness of our wines.
Our plots, planted on a brown schist terroir, benefit from an ideal Mediterranean climate: an exceptional amount of sunshine combined with maritime influences allows the grapes to reach optimal ripeness. The maintenance of these particularly steep plots and the harvesting are done entirely by hand.
Our vineyards are located on the heights of Collioure, at an altitude of 231 metres at the Col de Mollo, an ancient Roman road used to cross the Pyrenees mountains.
This estate is built around a 13th century chapel, Notre Dame du Paradis. This property is mainly composed of vines whose vocation is to produce "varietal wines".
These vines, located on this coastal terroir, benefit from a Mediterranean climate. Their proximity to the sea reduces temperature differences, thus favouring freshness in the profile of the wines.